Summer 2023: Find Your Voice!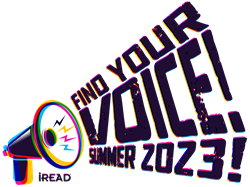 Our voices have power. We use our voices to share stories, express ourselves, and spark change. Our voices include not only the sounds we make, but the words we write, the art we create, the movements we perform, and the actions we take each day to impact our world.

iREAD 2023: Find Your Voice will provide a context for exploring books, history, social justice, and STEAM fields as well as develop library programs and services that empower patrons of all ages to make their voices heard.
2023 iREAD will feature the following artists:


Sourced BY and FOR librarians, iREAD is interested in your input to make our program as strong as possible. This opportunity is open to all library staff and all states.

Get involved in iREAD and help us shape future programs.
Submit an idea for the Resource Guide


If you have any questions, please email iread@ila.org.
---